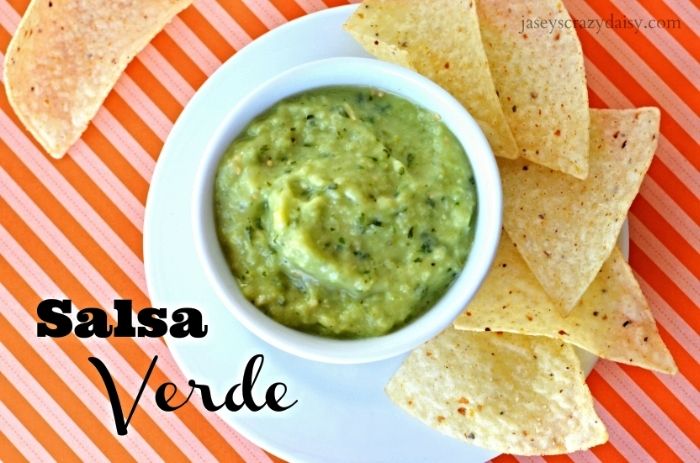 I hope you aren't too surprised to find recipes like this Salsa Verde here on Jasey's Crazy Daisy. It would be easy to think that we totally junk out at my house, especially when you consider all the treats posted in my
recipe box
(that dessert section just doesn't quit, does it?), however, it's not really true. We may sample those sinful creations, but I push a lot of them out the door – or we'd all look like elephants. In reality, we eat pretty healthy. My kids actually cheer for quinoa (even if it is sprinkled with a few chocolate chips), love smoothies with spinach or kale and flax seed, and don't think twice about dipping their carrots in hummus rather than ranch. I admit that I am still a total sucker for
baked cheesy dips
smothered on slices of baguette,
brownies
, and
popcorn
, but I try to keep those for special occasions and I love it when I find recipes that are
healthy
and yet I can't turn away from them. I love
salads
and salsa type dips packed with veggies and amazing fresh tastes. This green salsa is one of those recipes. My oldest simply cannot get enough of it, and it was a HUGE success at the Super Bowl party. It's a little tangy from the tomatillos, creamy from the the avocados, and seasoned just perfectly as a mild salsa. I love eating it with tortilla chips or drizzled over burritos, taco salads, and most any other Mexican dish. With Cinco de Mayo around the corner, it couldn't be a more perfect time to share my Salsa Verde with you.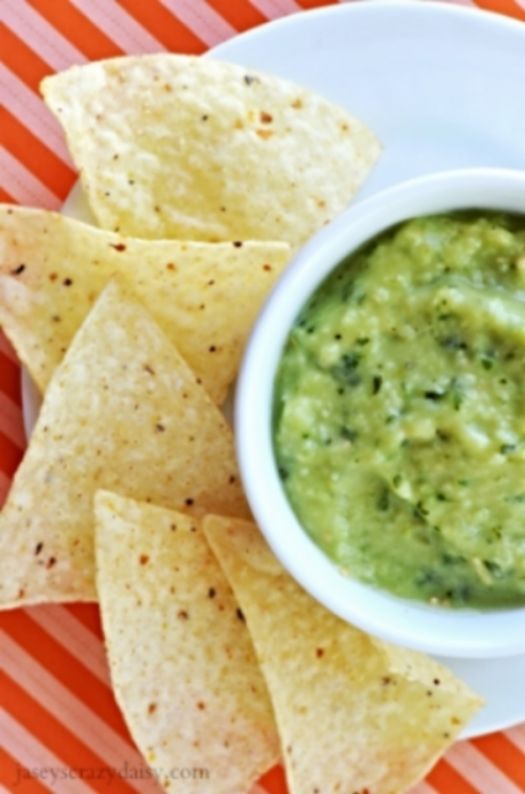 Salsa Verde
2014-03-03 21:47:28
This cool and creamy salsa is fabulous eaten as a dip or drizzled over your favorite Mexican dish.
Ingredients
3 tomatillos, peeled, rinsed, and chopped
1 avocado, diced
2 garlic cloves, chopped
1/2 onion, chopped
1 jalapeno, seeded and chopped
1/2 cup cilantro, washed and roughly chopped
1/4 teaspoon Kosher salt
1/8 teaspoon pepper
juice of one lime
Instructions
Add all ingredients in the container of a blender or food processor. Blend until desired consistency is reached. Serve with chips or as a topping for your favorite Mexican dishes and salads. Store in the refrigerator.
Notes
*Note, this is a mild salsa. To add heat, leave the seeds in the jalapenos, or substitute with a spicier pepper.
Jasey's Crazy Daisy http://jaseyscrazydaisy.com/
Looking for more recipes to celebrate Cinco de Mayo with? Click here.